Get Your Free Repair Estimate
Step One: Free Collision Repair Estimate in Sarasota
To start off the collision repair process we will begin with a free collision repair estimate after we assess the damage and what is needed to fix it. We offer our estimate at no cost to you. We want the Free Repair Estimate to be as transparent as possible, so if you have any questions about the estimate please ask one of our service professionals. We know that our customers from the Sarasota area, are probably in a stressful situation if they need repairs and we promise to do everything we can to make this a friendly and relaxing experience.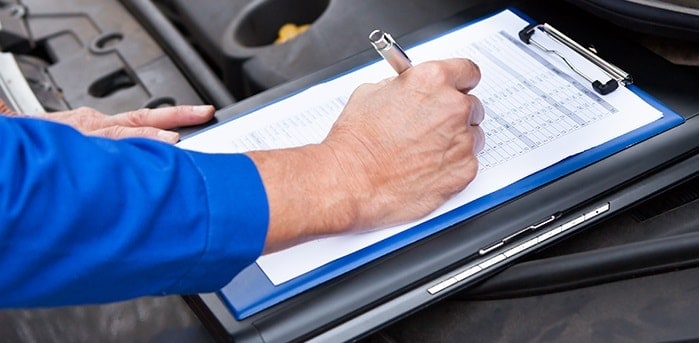 When we make your free collision estimate we will also document body damage issues. We will take thorough pictures of the vehicle and write notes, this way we can be sure what the car looked like when it arrived at the auto body shop in Sarasota. Once we have all of this information ready we will make our estimates. The estimate is then sent out to you and, if there is one involved, the insurance company.
Remember that our estimates can only be based on visible damage. Though we strive to maintain a high level of accuracy, sometimes additional damage is discovered upon disassembly of the vehicle. This damage could increase the cost of the repair. Unfortunately, not everything is visible to the estimator during our initial free inspection.
Website Accessibility Policy:
Premier Collision Center's 
goal is to reduce potential access barriers to its website.  However, some of the content on this website is within the exclusive control of the web platform provider and other third parties. If you have an issue accessing any page or feature or content on this website, for further assistance or to report a problem with the website, please contact our Web Accessibility Team at 
accessibility@sunsetautogroup.com
. Please refer to the specific website page(s) and issue(s).  Use of 
Premier Collision Center's
website is subject to its Privacy Policy and Terms of Use.
We want to provide you with the best service possible, so please if you have any questions about the repair estimate process contact our professional service staff and tell us your questions and concerns. We will walk you through any parts of the process you want to learn more about. Our top technicians are experts in many different top brands like Cadillac, INFINITI, Volvo, Volkswagen, & More!
If you need service or a repair give us a call, or use our online scheduling page to make an appointment.